"Custom Designed with Highest Quality Fabrication"
Chem Process provides manufacturing services for specialized engineering process equipment with a focus on heat exchangers and pressure vessels. Highest quality, end product is ensured as we take responsibility of the whole fabrication contract which may include all related steel structures including skids, frames, welded structures and walkways, casings, cabinets, housings and platforms. Chem can take complete turnkey enquiries from clients including design, drawings, manufacturing specifications, certifications required and preferences. Chem Process monitors and manages the fabrication process and provides status reports and assistance during client visits to its works. Chem also provides design calculations to PED, ASME, and other codes as required. Our manufacturing facility is designed for efficient production of large process equipment assemblies. It has 36,000 sq.ft. of covered floor space in 6 fabrication bays allowing a production capacity of up to 14,000 man hours per week on a standard day shift pattern. A key to the successful manufacturing of steam condensers and heat exchangers is the ability to drill a large quantity of precision holes, in house and from approved CNC & Radial Drill subcontractors ensuring proper hole tolerances. Our manufacturing facility is under constant upgradation both in regards to the fabrication tools and equipment as well as the labour skills resulting in one of the most efficient, experienced and best equipped workshops for process equipment manufacture in India. The workshop is uniquely positioned as both the fabrication arm for Chem Process designed process equipment as well as a custom fabrication facility to engineering companies and processing facilities. The facility is self-contained with all services feeding the workshops with power and industrial gases including oxygen, argon and propane. Cladding/explosion bonding, CNC drilling, dished end forming (by spinning), heat treatment, rubber/glass flake/FRP lining from approved subcontractors is carried out on a regular basis. Welding procedures and personnel meet various welding codes, including AWS, ASME, and MIL-STD-248/278 specifications. The Chem Process manufacturing facilities are strategically located and are accessible by low bed multi-axle hydraulic trailors for further transportation for Large ODC equipment.
Heat Exchangers
Columns /Towers
HP/MP/LP Vessels
Storage Tanks and Process Tanks
Reactors
Agitated Tanks vessels
Equipment Jacketed or with Limpet Coil
Scrubbers
Filters
Modular Skids/Piping Skids
Carbon Steel
Alloy Steel
Stainless Steel
Duplex/Super
Duplex
Titanium
 Nickel
Copper and Copper Alloys
Aluminium
Monel
Hastelloy
Inconel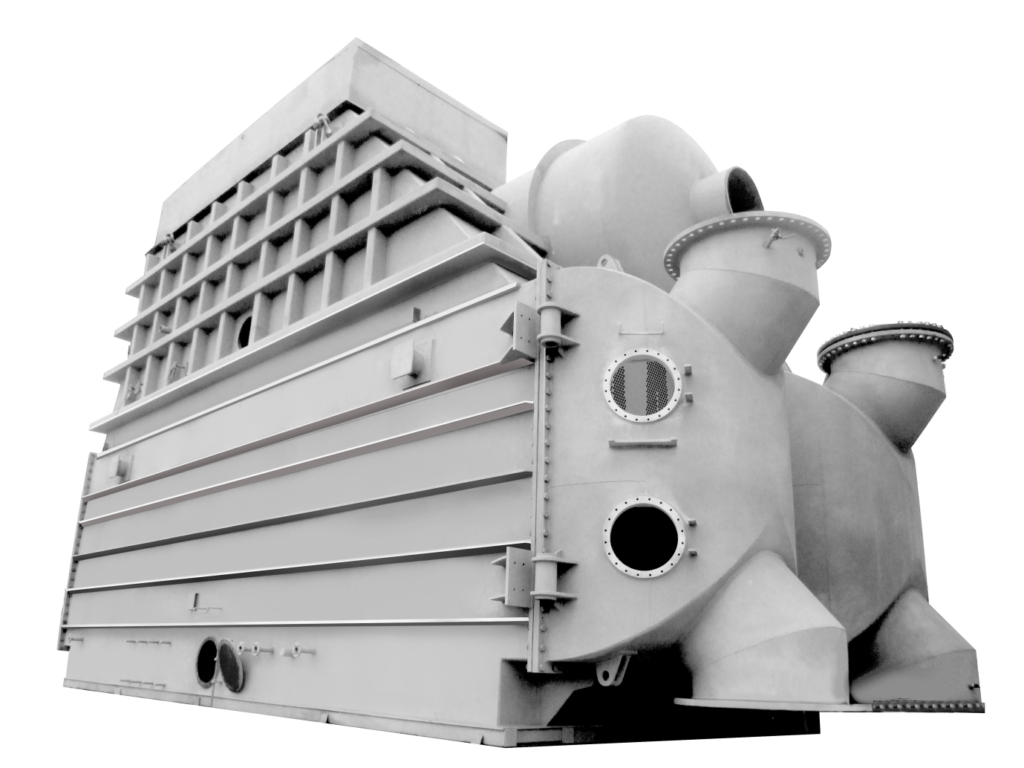 We have the facility to take over the fabrication of the most challenging equipment fabrication. With the uncompromising quality checks at all levels and highest standard manufacturing associates we ensure the zero error equipment fabrication with the most advanced manufacturing equipment and latest international manufacturing norms and standards abiding to all quality and safety features.

Our Precision Fabrication facilities help us overcome all challenges of equipment/vessel fabrication, however intricate the design aspect is. Our Fabrication team involves highly qualified Engineers and technicians at the shop floor level and at production level.
Exotic Material Fabrication
Our team is well qualified to work on all levels with the highest ASME standards for the Exotic Material categories. Our operating standards are just not limited to Good Engineering Practice, but we emphasize on having the best Engineering practice in Place. We have qualified welders to take care of the Standard Welding Procedure Specifications (WPS) while maintaining the updated Procedure Qualification Records (PQR). We have the ultra-modern facility to take care of fabrication of Materials including Ti, Duplex, Hast-alloy…..

Howsoever complicated the equipment be and Whatsoever the MOC be you can rely on the Expertise of Chem Process Systems to produce only the best quality and performing Equipment.
Chem Process Systems is an ISO 9001-2015 and OHSAS 18000-2007 certified company. The distinctive facility with 'U' Stamp, 'NB' and 'R' certification makes us an ideal partner for the manufacture of highest quality and complex fabrication of Vessels, Reactors, Heat Exchangers, Skids, Piping or any Metallic process equipment fabrication system.
Hydrocyclones are now an established equipment in modern process industries, deviced for solid-liquid separation.
Chem Process Systems designs Hydrocyclones that use fluid pressure to generate centrifugal force and flow pattern that can separate particles or droplets from a liquid medium. This equipment essentially works upon the differential relative density fundamentals to achieve separation.

The salient Features of the Hydro Cyclone include
Simple and cost effective
Highly efficient for continuous applications
Can have separation capability from 5 – 10 microns of particles
Has impactful application in the mining industry for the solid-liquid separation
Similar utilities in the Pharma, Chemical and Food and Beverage industries
Principle of Working: The removal of dissolved gases from boiler feed water is an essential process in a steam system. The presence of dissolved oxygen in feed water causes rapid localized corrosion in boiler tubes. Carbon dioxide will dissolve in water, resulting in low pH levels and the production of corrosive carbonic acid. Low pH levels in feed water cause severe acid attack throughout the boiler system. While dissolved gases and low pH levels in the feed water can be controlled or removed by the addition of chemicals, it is more economical and thermally efficient to remove these gases mechanically.
This mechanical process is known as deaeration and will increase the life of a steam system dramatically.
The Process used to bring a superheated steam is brought down to its Saturated state or the temperature is reduced to its Superheated Temperature is the De-superheating process.

Desuperheaters are a simple and static equipment used to achieve the same either by using a lesser temperature (cooled off) Steam, Vapors, Gases or any Liquid (including Water).

A typical Desuperheater application includes superheated steam, initially utilised for power generation whereby it is captured in a steam recovery system for further use within the same plant's heating applications.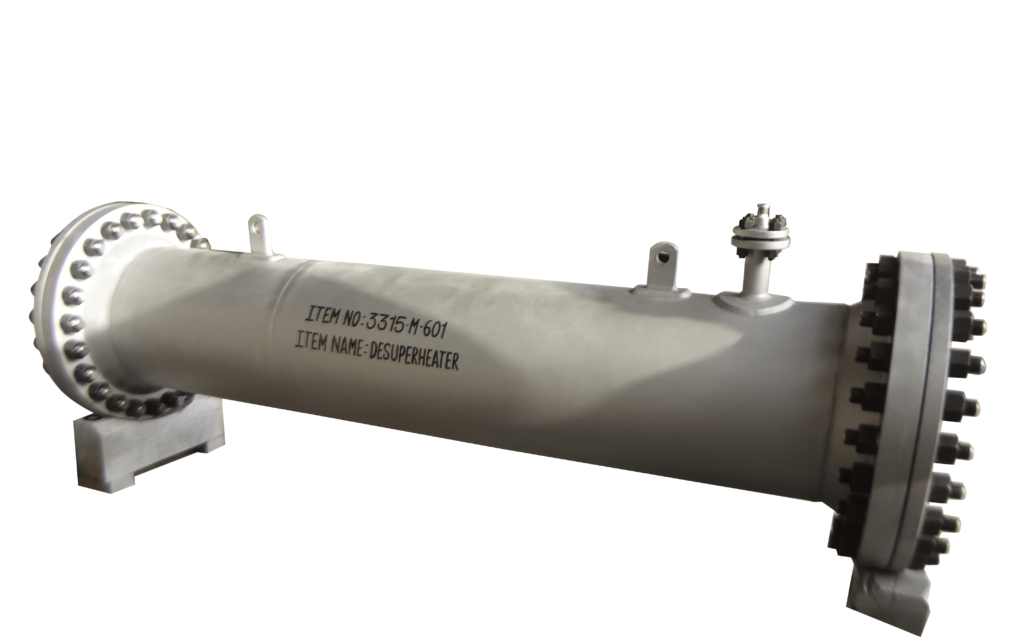 In this case, the best way of altering the steam characteristics from high temperature and high kinetic energy value is to reduce the steam temperature to its saturated state suitable for heating purposes. The process of desuperheating involves injecting water (or a compatible liquid / gas )into the steam path in a controlled and calculated manner allowing for the steam and water to efficiently atomise and mix, thus cooling the steam at controlled rate suitable for heating processes.

Important Factors on which a De-super heater is designed are
Differential Pressure between water and Steam
Velocity differential between water and Steam
Temperature differential between water and Steam
Turbulence created for effective mixing
Superheated steam behaves like gas, leaving hot and cold patches over a heating surface. This results in poor heat transfer and wastes valuable steam. A Desuperheater provides the following advantageous solutions;
Generates equal amount of steam, as injected water is ideally converted into steam
Plant efficiency is enhanced as the heating process becomes faster
To avoid the particles of fine solids (powder or dust) received from various operational aspects of any industry to be carried out in the open environment or in the further process, it becomes empirical to either collect these particles or separate them from carrying over.

Our specifically designed Cyclone Separators ensure that the same can be done with minimum effort inline with the forgoing process while the discharges are managed. The cyclonic effect is maintained by the intricately designed helical loop with tangential in-flow arrangement which easily makes the heavier particles get separated and settled at the bottom of the conical length of the Cyclone separators.

We analyze the entire process loop to offer the most optimally designed and highest performing efficiency units.

Our technical team has the proficiency in the design of both metallic and non-metallic cyclones for various applications and various industries like :
Hard Rock Mining
Coal Mining
Flue Gas Desulfarization
Chemical industries
Paper and pulp
Fiber Glass
Food Washing and other Food applications
Soil remediation
Automotive plants and others.
CHEM's experienced professional engineers assist customers in developing process technology equipment, taking them from concept to pilot scale to production. Since the scenario of plant erection is changing and the demand of modular units has started entering into the concept of production, we have devised the entire range of Equipment and process plants in a fit and play modules, more realistically called Skid Mounted Units.

There are more to the list, as we savor the challenges for process development with cost effective and performance oriented approach. We virtually look out for new challenges as we believe in the fact that it is only the acceptable innovation that survives the market.

We have a wide range of Skid mounted units which can be utilized to actual operations on mini and production scales across a variety of range and combinations. These skid mounted units include :
Vacuum Package units
Evaporation Units
Dryer packages
Distillation Packages
Crystallization Units
Solid Separation Packages
Short Path Distillation Units
Bleacher and De-odorizing units
Catalyst Loaders
Condenser / Heat Exchanger Packages
Lab Scale Plants
Process Flow Vessels (lined and non-lined)